This
post
was originally published on
this site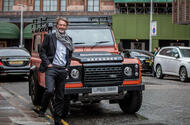 Ineos boss Jim Ratcliffe with the Land Rover Defender
British chemicals firm plans is heading development of an 'uncompromising' 4×4 that reflects the Defender's philosophy
Mercedes-Benz subsidiary MBtech has signed a deal with Ineos Automotive to engineer its Land Rover Defender-inspired Projeckt Grenadier SUV.
The technical tie-up will see MBtech, an automotive engineering and consultancy company, allocate 200 full-time engineers to the project from its Stuttgart base, to "bring together German engineering and British design and entrepreneurship," according to Ineos Automotive CEO Dirk Heilmann.
Projeckt Grenadier will produce a rugged SUV in the spirit, but not diretly related to, the original Defender.
Ineos Automotive, the car brand created by Heilmann, the founder of multinational chemical company Ineos, intends to reveal early sketches of the car later this year, before putting preliminary versions of the Grenadier SUV into production from 2019. Finished cars will roll onto the roads in 2020.
"We'd originally said our desire is to build it in the UK, and that remains the case," Ineos director Tom Crotty told Autocar last year. But the company has also received a number of offers from European sites.
Ineos turned over £43 billion in 2017, making a £3.8 billion profit. It has plans to invest around £700 million into a chosen site. An Ineos spokesman told Autocar that an announcement for where production will take place is due to be made later this year.
The company has previouly stated that it's open to a number of possible solutions: it could share a facility with another company, convert a used plant, or build a new one.
Ineos is still keen to start production in the UK, despite uncertainty over the automotive industry in the country following the Brexit vote.
"We've gone into this decision with eyes wide open," Crotty said when asked about Brexit's impact. "It really doesn't have an impact. We think this is a project for the UK that would be hugely beneficial post-Brexit because we would be exporting around 70-80% of the cars we would make."
Ineos is targeting worldwide sales of around 25,000 units per year, and prices are set to stick closely to those of the outgoing Defender, which was priced from £25,000.
The car has been dubbed Projekt Grenadier, referencing the Grenadier pub in Knightsbridge, close to the Ineos office, where the plans for this Defender-inspired model were first discussed, according to Crotty. The German spelling of 'projekt' has been used as a reference to the nationality of the car's lead engineer, Dirk Heilmann.
"We want the best quality engineering under the skin of this vehicle, hence the nod in this direction," Crotty said. "We want to remind everyone that what we're trying to do is make an uncompromising 4×4 with high levels of engineering."
Ineos has previously outlined its vision for its 4×4 to be sold globally, but particularly targeting the US, sub-Saharan Africa and Europe.
Much of the design and powertrain options are still to be decided, but Crotty confirmed to Autocar last year that it's likely to have a diesel option, while hybrid and electric technology is being explored.
Crotty also confirmed that it will have a traditional chassis, rather than a monocoque, and that it will be relatively low-tech, unlike Land Rover's forthcoming Defender replacement, which is due on sale in 2019.
"It will be extremely high quality and extremely reliable," said Crotty.
"We're looking at a range of options for powertrains," he added. "Hybrid technology could well be on the cards, especially because it would help with emissions management, but we would want it to retain its off-road values.
"Pure EV is also a possibility. We're looking at everything and haven't closed anything off. I'd be very surprised if a diesel option wasn't part of that," Crotty said.
As for styling, Crotty confirmed it will have the "spirit of the Defender" but it won't be a lookalike.
"It won't be a modern SUV," he said. "It will be much more like an old-style, very rugged off-roader."
Ineos says it is one of the world's largest manufacturers, but this will be the first time that it has produced a vehicle.
Crotty accepted that the project is a risk, but maintained that it had the full backing of the company and it was determined to make it a profitable success.
"People probably think we're crazy because we're not in the car industry," he said.
"There's risk in everything you do, but we can manage that risk. We are manufacturers, we know what we're doing and we know we need high quality from the people in the industry."
Ineos boss Jim Ratcliffe is a big fan of the Defender and was behind the company's move to make its own model.
"This is a fantastically exciting project," Ratcliffe said. "We want to build the world's purest 4×4 and are aiming it at explorers, farmers and off-road enthusiasts across the globe."
The firm said it "is determined that the vehicle will not only fill a gap in the market vacated by the Defender but also provide a step-change improvement in build quality and reliability".
Ratcliffe added: "I am a great admirer of the old Land Rover Defender and have enormous respect for its off-road capability, and our new 4 x4 has been inspired by it. But while our off-roader might share its spirit, our new car will be a major improvement on previous models."
Jaguar Land Rover is fiercely protective of its Defender. In 2016, it prevented a Canadian company using the name Defender for an all-terrain vehicle.
At the time, Jaguar Land Rover legal boss Keith Benjamin said: "The Land Rover Defender is an iconic vehicle that is part of Jaguar Land Rover's past, present and future. The success of our business is based on unique design and engineering attributes, and we intend to protect the brand robustly around the world."
Ineos has informed JLR of its plans, and Crotty said there was no conflict between the two parties and that JLR's response was "neutral".
"There have been no great fallings out, just sensible conversation," Crotty said.
"We're not out to produce a copy, we're out to produce a new vehicle that is filling a space that the Defender used to fill."
Rachel Burgess and Doug Revolta
New Land Rover Defender will be brand's most high-tech car yet
Land Rover Defender versus the Congo
Crossing the Atlantic in a Land Rover Defender (sort of)